MISSION
Empowering Pride Organizations Worldwide
VISION
InterPride's mission is to achieve legal, social, and cultural equity for SOGIESC* communities through the Pride movement.
*sexual orientation, gender identity, gender expression and sex characteristics
United Nations Advocacy Program
United Nations Advocacy Program
InterPride was granted Consultative Status at the United Nations in June 2023. InterPride uplifts the voices of Pride Organizers and member organizations through attending UN meetings and gatherings, consulting UN mechanisms, and delivering written statements and oral presentations.
Our Membership
Our Membership
We're beyond excited to welcome any LGBTQIA+ organization that produces Pride or Pride-like events for their greater community!
Whether it's a parade, march, rally, festival, arts festival, cultural activity, event or activity, we want to provide a warm and inclusive space for people of all sexual identities – Lesbian, Gay Men, Bisexual, Transgender, Intersex, and/or other emerging sexual identities.
Podcast
Podcast
InterPod, The Global Voices of Pride Podcast, powered by InterPride, where the world comes together for the LGBTQIA+ community!
Our official podcast is hosted by Michelle Meow, who brings on guests from all over the world to broaden the audience's understanding of queer, trans, and Pride culture and politics, to surprise and delight listeners with unexpected points of view, and to invite listeners into a vibrant conversation about the issues that are animating the global LGBTQIA+ communities.
Pride 365
Pride 365
Pride 365 is a global partner of InterPride. We believe that the LGBTQIA+ community deserves to be supported all year round, not only during the Pride season.
Pride 365 chose its name to symbolize this mission. Pride 365 works with businesses committed to making the lives of the LGBTQIA+ community better both within their own businesses and in wider society.
Resources
2023 Candidate Nominations | Candidaturas para 2023 | Candidatures pour 2023 | Nomeações de candidatos para 2023
The deadline to apply is fast approaching! | El plazo de presentación de candidaturas se acerca rápidamente. | La date limite de dépôt des candidatures approche à grands pas ! | O prazo para se candidatar está a aproximar-se rapidamente!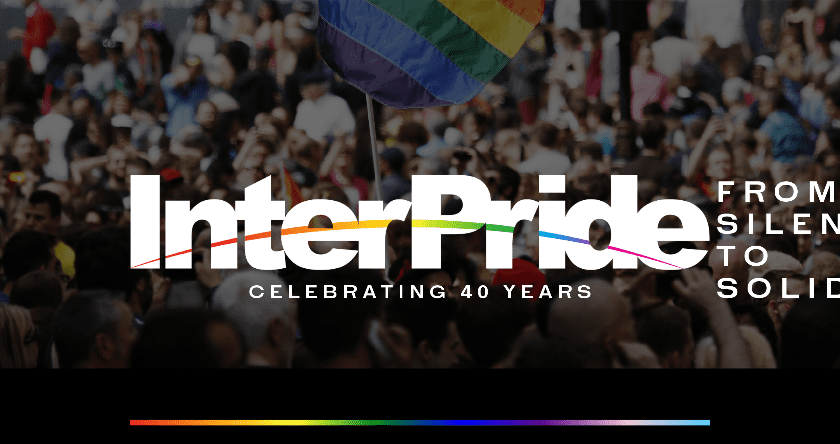 Happy Pride Month!
Welcome to "How To Pride" with InterPride! Pride occurs at different times around the world, and InterPride is continuing to celebrate and support the LGBTQIA+ this June of 2022.
Global Internship Program
Marketing & Communications (MARCOM) Internship Opportunities with InterPride
more info
Always Walk With Pride With Happy Socks!
Always Walk With Pride With Happy Socks!
"Our Pride collection is available 365 days a year. For the third year in a row we are proud to partner with @InterPride, who receives 10% of the profits from all the products sold globally."
VISIT OUR SHOP
Swag, Flags, T-Shirts And More!
Hispanic Heritage Month
Ally Week
Ways To Support Us
Ways To Support Us
Join the InterPride movement today and become a part of something truly special! Your membership and/or donation will make a world of difference – 100% of your donation will go towards supporting the amazing work we do.
Make an impact, join us today!
InterPride's Anti-Racism Statement
InterPride's Anti-Racism Statement
Official Statement
As an organization representing the global LGBTQIA+ Pride movement, InterPride acknowledges that our community is no stranger to the systemic racism against Black, Indigenous, and People of Color, shown starkly through some forms of violence in their daily lives.
Over the last 50 years of the LGBTQIA+ movement-building, the violence against Black, Indigenous, and People of Color – especially Black trans women – undeniably demonstrates ongoing structural systems of oppression and racism added to the unjust police brutality, reminding us that our work is far from done.
InterPride is committed to supporting the global Black Lives Matter movement during this critical time and doing the hard work required to address all marginalized people's injustices within our organization and communities face. To make these actions concrete with long-term impacts that will bring change within our organization and beyond, we will launch our Racism and Oppression Awareness Program in November. Additionally, we have committed to direct donations received through Global Pride 2020 to support anti-racism programs by Pride organizations worldwide.
We all understand that we need to be part of the solution. As we continue to work toward our vision of a world where there is full cultural, social, and legal equality, we believe this moment is especially critical. We must form broad coalitions committed to addressing the deep forms of structural racism that persistently manifest as forms of violence against Black, Indigenous, and People of Color.
We hold our entire Board accountable and urge every member of our committees to take concrete actions by building and setting up anti-racism, anti-oppression, accessibility, diversity, and inclusion training and educational resources. We commit to providing education to our membership organizations, partner organizations, friends, families, and communities about unconscious bias and institutionalized racism. We will persistently be the people in the room that call attention to issues of social injustice.
We call Pride organizations worldwide to join this movement and take the steps needed to end systemic racism.
Leave no one behind!
#blacklivesmatter