MISSION
Advancing The Global Pride Movement.
VISION
InterPride's mission is to achieve legal, social, and cultural equity for SOGIESC* communities through the Pride movement.
*sexual orientation, gender identity, gender expression and sex characteristics
Let's celebrate 40 years of InterPride together!
Let's celebrate 40 years of InterPride together!
Join Us For A Night Of Elegance And Celebration At InterPride's 40th Anniversary Gala On Saturday, April 29, 2023. Our evening will begin at 4:00 pm PDT with a Ruby Celebration reception, followed by dinner, show and after-party. Dress to impress! All events will take place at the Avalon Hollywood Theatre and Bardot Lounge.
Talent announcements are coming soon so stay tuned for more updates! EARLY BIRD Tickets are now on sale at interpride.net/gala! We look forward to seeing you there!
Our Membership
Our Membership
We welcome any LGBTQIA+ organization that produces Pride or Pride-like events for their greater community as one of its purposes or activities. Pride events may include a parade, march, rally, festival, arts festival, cultural activity, event or activity organized for people identifying as Lesbian, Gay Men, Bisexual, Transgender, Intersex, and/or other emerging sexual identities.
Podcast
Podcast
InterPod, The Global Voices of Pride Podcast, powered by InterPride, where the world comes together for the LGBTQIA+ community!
Our official podcast is hosted by Michelle Meow, who brings on guests from all over the world to broaden the audience's understanding of queer, trans, and Pride culture and politics, to surprise and delight listeners with unexpected points of view, and to invite listeners into a vibrant conversation about the issues that are animating the global LGBTQIA+ communities.
Resources
The Pride March across the Sydney Harbour Bridge
The Pride March across the Sydney Harbour Bridge will be a once-in-a-lifetime event for Sydney WorldPride! If you missed the ballot for places on the Pride March, sign up for the waitlist. Any unclaimed ballot tickets will be reissued to people on the waitlist closer to the event. 🌈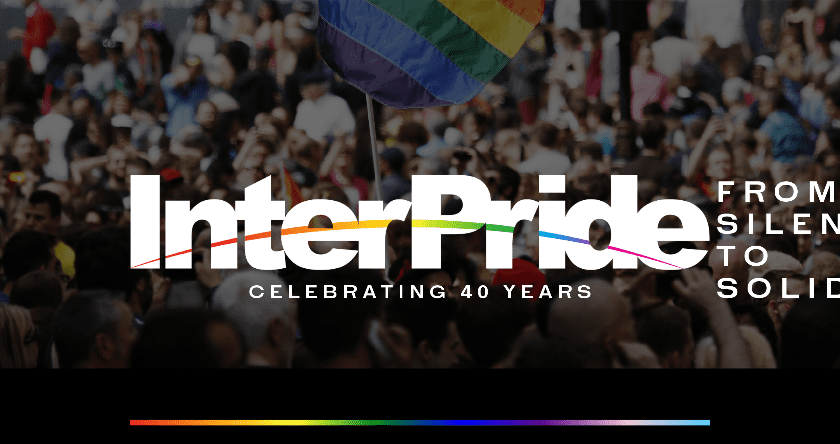 Happy Pride Month!
Welcome to "How To Pride" with InterPride! Pride occurs at different times around the world, and InterPride is continuing to celebrate and support the LGBTQIA+ this June of 2022.
Global Internship Program
Marketing & Communications (MARCOM) Internship Opportunities with InterPride
more info
VISIT OUR SHOP
Swag, Flags, T-Shirts And More!
International Creativity Month
International Month of Black Women in the Arts
Ways To Support Us
Ways To Support Us
InterPride invites you to join us by becoming a member or making a contribution. 100% of your donation will go to supporting the work InterPride does.